Profile
Research and Teaching Interests
The Algar Research Group is interested in developing optically active nanoparticles as platforms for biosensing and theranostics, as well as understanding the bio/physicochemical properties of such systems.
Nanoparticles represent a new frontier for biosensing: they provide unique optoelectronic properties that are often inaccessible with bulk or molecular materials; and while sufficiently small to be used inside cells and tissues, they also provide surface area that can be chemically modified, decorated with functional biomolecules, and carry other cargoes (see illustration). Currently, our work focuses on harnessing quantum dots as a bioanalytical platform. These brightly luminescent semiconductor nanocrystals are among the most interesting and versatile nanomaterials available. We use a combination of biological, chemical, and spectroscopic tools to impart quantum dots with the ability to detect specific biomolecules and enzymatic processes.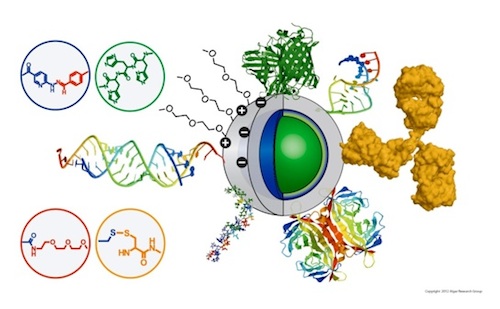 The luminescent properties of quantum dots are ideal for multiplexing—i.e., the simultaneous detection of multiple analytes. We are working towards developing multiplexed diagnostic devices and cellular probes that can either (1) rapidly measure panels of clinically relevant biomarkers or (2) track coupled biological activity in real-time. The latter refers to biomarkers in complex signaling pathways in biological systems. Proteolytic cascades are an example in which we have a particular interest.
Some of our research projects can be loosely categorized as:
Modular, sensor-ready optical components that can be easily integrated into lab-on-a-chip systems and/or point-of-care devices.
"Smarter" cellular probes capable of multiplexed detection, or quantitative detection with a concurrent therapeutic effect.
Novel energy transfer configurations for biosensing.
Improving the affinity and selectivity of biorecognition through the use of nanoparticle scaffolds.
Students in our laboratory have the opportunity to gain experience in bioanalytical, materials, and bioconjugate chemistry, as well as fluorescence spectroscopy and imaging. Opportunities will also exist for experience in basic cell culture, manipulation, and measurements. Prospective graduate students should apply to the UBC Chemistry graduate program and contact Russ via email.
Curriculum Vitae
Canada Research Chair (Tier 2) in Biochemical Sensing (2012)
Editorial board, Analytical Chemistry Research (Elsevier)
NSERC Postdoctoral Fellow, U.S. Naval Research Laboratory (2010-2012, I. Medintz) 
Governor General's Academic Gold Medal (2011)
Ph.D., University of Toronto (2010, U. Krull)
M.Sc., University of Toronto (2006)
Hon.B.Sc., University of Toronto (2005)
Publications
2015
2014
2013
2012
2011
2010
2009
2008
2007
2006