Profile
Research and Teaching Interests
Professor Sherman is interested in the design and synthesis of organic and biological molecules that have well-defined structure. These compounds are designed to explore molecular recognition and to probe the factors governing protein folding.
One project involves the creation of a new system of hybrid cavitand-proteins or 'caviteins' (pictured). These de novo proteins are composed of four alpha-helical peptide chains that are organized into a bundle by a rigid bowl-shaped organic macrocyclic cavitand molecule. This cavitand moiety creates an enforced cavity suitable for complexation of guest molecules while the helices form a super-secondary protein structure atop the hydrophobic cavity. The caviteins are designed to selectively bind guest molecules such as amino acids, to catalyze reactions such as amide hydrolysis, and to help elucidate some of the interactions that are important in promoting super-secondary structure in proteins.
A second research area explores the reaction mechanism and templation effects responsible for the formation of carceplexes. Carceplexes are closed-surface organic molecules that permenantly entrap smaller molecules within their confines. The wate r solubilization of carceplexes will unleash entirely new areas of study including applications such as drug delivery.
Another project entails the creation of a new family of self-assembling structures (SAS's). SAS's are ubiquitous in nature (e.g., DNA double helix, cell membranes, etc.) and are receiving great attention in materials science (e.g., monolayers, liquid crystals, etc.). We are covalently linking bowl-shaped molecules and studying their aggregation to form 1-D rods and 2-D bilayers.
Techniques employed in this lab include organic synthesis, peptide synthesis, operation of and analysis by HPLC, NMR and circular dichroism.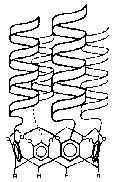 Curriculum Vitae
B.A., Haverford College (1983); Ph.D., University of California, Los Angeles (D.J. Cram, 1988); Research Associate, The Rockefeller University (E.T. Kaiser, 1988-89); NIH Postdoctoral Fellow, New York University (N.R. Kallenbach, 1989-91).
Publications
2009
2008
2007
2006
2005
2004
2003
2002
2001
2000
1999
1998
1997
1996
1995
1994
1993