NOTICE:
Starting April 1st, window order pickup times will change to 9:00-11:00am; 12:30-4:00pm, Monday to Friday.
There are no longer any limits to the number of gloves a group can purchase per order.
Chemistry Stores is open for orders. Customers will need to place orders online through the Planon Product Store to be picked by Stores staff. Customers notified when orders are ready for pickup. Orders placed by email can be collected the following work day (if placed after working hours add a day).
Opening times
Stores customers: 9:00am-11:00am, 12:30-4:00pm
ThermoFisher Supply Centre: 9:00am-11:00am, 12:30-4:00pm
Stock orders
Customers can place orders via the Planon product store. Login with your CWL at this link: https://ubc-prod.planoncloud.com. If you do not have access (please check by trying to log in first), find the authorization form on the Standing Account tab of this website.
All items are listed in the Planon product store. Quantities on hand can be reviewed for all items in the product store by clicking on the item information.
Please review this guide before your first order for help answering simple questions. Customer Quick Order Instructions
Additional instructions for placing an order within the product store: STO 124 Requesting Stock Items from Product Store pdf
Planon customers will be notified when orders are ready for pickup. Emails are sent to the default email in your Workday profile. Orders placed by email can be collected the following work day (if placed after working hours add a day).
Other Stores Items
Dry ice pickup (for UBC customers who need the Stores key) will only be available during the opening times above. All necessary items will be at the window. Dry ice deliveries will continue on the M/W/F schedule.
The laundry bin will be placed in the hallway for collection of lab coats to be laundered. Please continue to send an email with quantity and contact information as per usual process (see services tab on this website for more information).
Distilled water is available. Ask customer service at the window.
ThermoFisher Supply Centre
Pick up is available during the hours of 9:00am-11:00am, 12:30-4:00pm

If preferred, phone or email Alex at biosupply@chem.ubc.ca, (604) 827-2534 if you are planning on picking up an order that day. This will allow her to put aside your order and lessen the amount of time you will need to spend at the service window once arriving.

For stocked products, please contact Alex for confirmation it is in stock before arriving. Once confirmed, and whenever feasible, please place online orders for stocked products before arriving to the service window and reference your order # when picking up. If Alex normally places orders for you, please call her before arriving with payment details.
Liquid Nitrogen Filling
Nitrogen will be dispensed for Non-chemistry customers daily from 2PM to 2:15PM in the nitrogen dispensing room (D128) in the main Chemistry building.
Non-chemistry customers wishing to purchase liquid nitrogen must be preauthorized. There are three options:
Frequent users can request to have a dispensing fob issued.  Contact Tony Mittertreiner to arrange for a fob to be created for your group.
Go to Chemistry Stores and ask to purchase liquid nitrogen. They will process the transaction and provide you with a printed receipt. You can give that receipt to the dispensing technician as your proof of purchase.  Stores is open between 9 and 11AM, and 1 and 3 PM.
Order N2 in Planon at least one day prior to coming to get N2. Instructions for using Planon can be found in the link above (under Stock Orders).
                  a. Liquid nitrogen can be found under Chemicals -> Compressed Gasses
                  b. The screen below is an example of what you want to get to when ordering N2.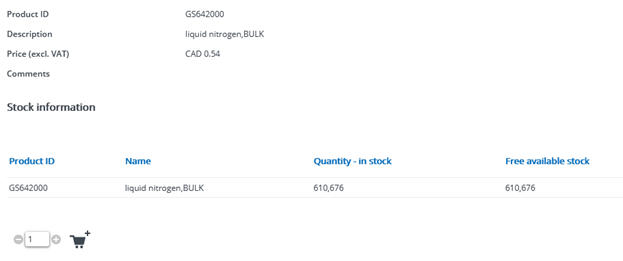 c. After you place the order, you will receive an email within 1 working day advising that your product is ready for pickup.
               d. Bring a copy of the email to give to the dispensing technician.
               e. You will not need to go to stores if you use this method.
Contacts:
Technicians         (Chemistry Mechanical Shop):    604-822-9467
Billing issues       (Tony Mittertreiner)                      604-817-6363     tonym@chem.ub.ca
Stores                                                                            604-822-3865     storz@chem.ubc.ca