Profile
Research and Teaching Interests
Our efforts focus on developing a detailed understanding of the mechanisms by which enzymes catalyze biological reactions. Insights obtained from studies on enzyme mechanism can lead to the production of bio-active compounds and to the design of efficient synthetic catalysts.
 Stereochemical control is a key component in the biosynthesis and metabolism of many biological compounds. As a result, many racemases and epimerases have evolved that catalyze the inversion of configuration about carbon. Most of these enzymes act at centers which are activated by an adjacent carbonyl functionality, and they abstract a relatively acidic proton. Our interests lie in studying enzymes that act on unactivated stereocenters and must employ unique reaction mechanisms. One example is ADP-heptose 6-epimerase that generates a key building block in bacterial lipopolysaccharide biosynthesis.
Another area of current interest in the Tanner group are the enzymes responsible for the biosynthesis of the sialic acids in mammals. Sialic acids are found on the surface of mammalian cells and play key roles in mediating cellular recognition events. Studies on both the epimerase and the synthase are currently ongoing in the lab.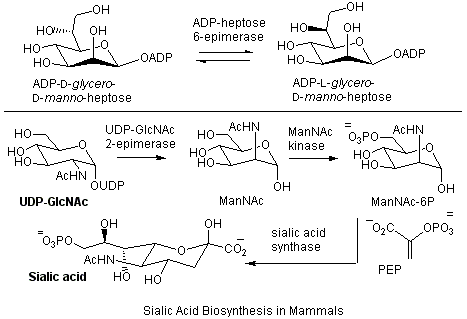 A wide range of experimental techniques are used to probe the reaction pathways. The tools of physical organic chemistry, such as isotopic labeling studies and the measurement of kinetic isotope effects, help to outline the order of, and the barriers to, the bond-making and bond-breaking steps in these transformations. Synthetic organic chemistry is used to prepare unnatural substrates that will serve as potent enzyme inhibitors (transition state analogs) or as mechanism-based enzyme inactivators (suicide substrates). Finally, the tools of molecular biology are used to produce large quantities of enzyme and to perform site-directed mutagenesis experiments.
Curriculum Vitae
B.Sc., University of Alberta, 1985; Ph.D., University of California, Los Angeles (D.J.Cram, 1990); NSERC Postdoctoral Fellow, Harvard University (J.R.Knowles, 1990-1992)
Publications
2023
2022
2021
2020
2019
2018
2016
2015
2014
2013
2012
2011
2010
2009
2008
2007
2006
2005
2004
2003
2002
2001
2000
1999
1998
1997
1996
1994