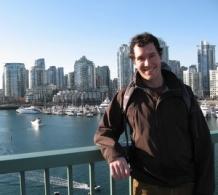 We are excited to present a completely new Chemistry website!
The website was developed from scratch and built to take advantage of the latest in website development technology. It will offer researchers, alumni and students alike easy access to the most important information and perfect functionality on mobile devices across different platforms. Try the superb search capabilities offered under the "Our department" and "Research & Faculty" tabs!
The website was developed by Shaun Dychko, the Founder and Lead Developer of Checkmark Media, in collaboration with Vancouver-based design agency Armada Design Group that gave the website its beautiful look. It was a great pleasure to work with both!
Shaun Dychko is no stranger to UBC. He graduated from the Department of Physics and Astronomy in 2002, and the Faculty of Education in 2003. Teaching physics is one of his passions. Another is building websites. He is currently taking a break from teaching, busy building websites and looking after his growing family. Shaun lives with his amazing wife, incredible son, and newborn-super-cute daughter in Vancouver.
His first marked accomplishment on the web was creating a subscription-based collection of 1,675 instructional screencast videos at Giancoli Answers. It serves as a solution manual for the textbook by Giancoli titled "Physics: Principles with Applications", and demonstrates best practice approaches to physics problem solving. Continuing the theme of educational websites, he then created the platform for the Physics and Astronomy Department's C21 Physics Teaching for the 21st Century project. He was then asked to develop the main departmental website for Physics & Astronomy, and now, the soon-to-be-highly-acclaimed Chemistry Department's main website!
Shaun really enjoyed working with our team at the Chemistry Department to create this website. He takes great satisfaction with improving his alma mater.